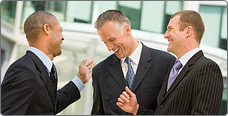 What 3SP can do for your Business
Information Technology (IT) needs differ from business to business. Through our extensive research we have created a platform of managed services, called CoreIO.
CoreIO™ is our unique network, server and workstation management program which entails predefined service bundles. For as little as $10/month, 3SP give you the flexibility to define the amount of security, support, monitoring, and specialized software that is associated with your network environment.
Getting comfortable with 3SP CoreIO is easy. Select from one of the 4 CoreIO Service Levels to specify the monitoring, security, and direct support provided for your network environment. Service levels can be upgraded at anytime.
The highest level is CoreIO Complete, which indicates that 3SP handles all aspects of your server, workstation, and key network devices, including all management, security, patches, and 24/7 monitoring, and that your server is considered "fully managed." The lowest level is CoreIO Basic, which indicates that your environment "unmanaged" and "unmonitored", and all aspects of your server are maintained by your organization.


From fully managed to unmanaged solutions, the choice is yours with Stepping Stone Service Provider.
CoreIO™ Complete - Fully Managed
The ultimate in security, monitoring and management, with the highest level of security, full scope management, auto server updates and full monitoring

CoreIO™ Pro - Managed
High levels of security, management, auto server updates and server monitoring

CoreIO™ Standard - Semi-Managed or Self-Managed
Medium levels of management, auto server updates and server monitoring or Normal management and security measures. This our CO Managed Arragement

CoreIO™ Basic - Monitoring
Monitoring Services from the 3SP support team.


Higher managed services under CoreIO are designed for maximum uptime, tight security, and high reliability. A team of dedicated experts monitors your servers 24x7 and proactively reacts to failures quickly and efficiently. Managed hosting services include patch management and software based security layers to keep your IT system stable and secure. All managed dedicated servers include 24x7 telephone support, priority technical support, and a service level agreement ensuring response to your issues in two hours or less.


Information YOU can Understand We provide network information that anyone can understand at any time.
Quick Response time With a SLA of 8 hours with a average ticket completion within 2 hours, CoreIO provides fast support in an even faster business world.
Read More

CoreIO CoreIO is our unique network, server and workstation management program which entails predefined service bundles